Outcry over Prospect Park Residence prompts move to stop more closures
The Prospect Park Residence will be closing soon, leaving many frail and elderly residents in the lurch. Photo: Google Streetview
Residents receive less protection under DOH rules
By Mary Frost
Brooklyn Daily Eagle
The outcry over the impending closure of an assisted living facility in Park Slope has prompted Assemblywoman Joan Millman to introduce legislation that would halt future closures while a state commission studies the effects of closing these types of long term care facilities.
Earlier this month, Prospect Park Residence, an assisted living facility located on prime real estate in Park Slope, gave its 130 residents just 90 days to find new places to live. The state Department of Health approved shuttering the residence after it received a closure plan in January.
Advocates say residents had more protection under housing laws than they do under the supervision of the state Department of Health, which merely requires the submission of a closure plan.
The bill submitted by Millman, Chair of the Assembly's Standing Committee on Aging, would create a nine member commission which would have one year to prepare a set of recommendations. No long term care private facility would be allowed to close, convert to any other use, or reduce staffing levels until a year after the commission reports its findings.
The outcome might include new legislation or regulations, according to a statement from Millman's office. A similar bill is being sponsored by Kevin Parker in the State Senate.
"Seniors who have been living in these facilities can be severely stressed and negatively affected by such an uprooting of their life without adequate time to transition," Assemblywoman Millman said in a statement. "The Prospect Park Residence has 138 beds and a number of these residents are extremely vulnerable. For instance, the residence has a closed unit for Alzheimer's and dementia patients."
The bill would not help the seniors at the Prospect Park Residence, however, said Michael Czaczkes, Assemblywoman Millman's deputy chief of staff. The New York State Attorney General is looking into the matter and will be meeting with some of the residents on Friday to review their contracts, he said.
While some of the residents have rushed to move elsewhere, others plan to dig in and fight.
Read More: http://brooklyneagle.com/articles/outcry-over-prospect-park-residence-prompts-move-stop-more-closures-2014-03-28-020500
Will Brooklyn Lose The Nets To Russia?
3:55
Russian billionaire Mikhail Prokhorov's plans to transfer the Brooklyn Nets to one of his Russian companies may never happen.
The move, which would be the first of its kind in U.S. professional sports, can not take place without the approval of the National Basketball Association. It's unclear whether the NBA would let such a change happen.
Prokhorov's proposed ownership transfer would be in keeping with Russian President Vladimir Putin's call for businesses to be registered and pay taxes in Russia. There's also a ban on politicians having foreign accounts and equity.
Prokhorov ran for president against Putin in 2012.
Bloomberg News reporter Scott Soshnick joins Here & Now's Sacha Pfeiffer to discuss the possibility of a Nets ownership transfer.
Guest
To see more, visit
http://www.wbur.org
.
Brooklyn Bluegrass Band Astrograss to Round Out Symphony Space's Just Kidding Season, 4/5

Just Kidding Presents a Morning of Bluegrass from Brooklyn: Astrograss on Saturday, April 5th, 11 am.
Tickets are available now. NEW: Family 4-pack of tickets for just $65. Get details HERE:
Brooklyn based Astrograss gets kids and their parents dancing and singing together, with a unique and fully orchestrated blend of bluegrass, old time, and folk music. Each concert features sing-a-longs, dance contests, and plenty of high-energy fiddle hoedowns.
They'll perform rousing songs from their award-winning album The Colored Pencil Factory, and several new tunes, some of which celebrate the birth the band members' newest offspring.
Read more at http://www.broadwayworld.com/bwwmusic/article/Brooklyn-Bluegrass-Band-Astrograss-to-Round-Out-Symphony-Spaces-Just-Kidding-Season-45-20140328#bLQIORTiv6KTOm0Q.99
Brooklyn Artist Aleksander Betko Shares His Go-To Spots in the Borough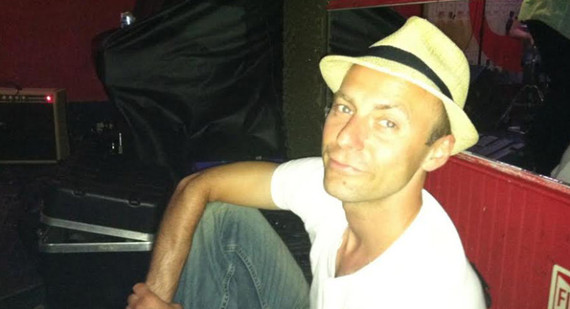 Photo courtesy of Strolby
Aleksander Betko is an artist whose contemporary appeal is firmly-and poignantly-rooted in the New York City of decades past. Born in Poland in 1976, his family fled the political unrest in that country when he was four years old, settling in Queens. Betko subsequently spent his youth immersed in the city's dynamic culture, both established (museums, art mentors) and underground (the 1980s punk scene, street performers). Those influences constantly linger in his work today.But it wasn't until he finished art school at SUNY Purchase at the age of 20 that Betko made his way to Brooklyn, and "was in love right from the start," as he puts it. It was here that he developed his artistic polish, producing works that evoke moments of solitude and otherness within the kinetic rumble of New York. His most recent show, at the Dacia Gallery last summer, presented a series of intimate portraits of creative New Yorkers caught in various moments of contemplation and brought a good amount of well deserved attention to his work.Check out Aleksander Betko's favorite spots in Brooklyn over on Strolby, along with some of his Brooklyn-inspired work.
Follow Sarah Stodola on Twitter: www.twitter.com/sstodola

The Fort Greene flea; Image via Wikipedia
Here's a friendly notice that Brooklyn Flea will be unleashed to the wilderness that is outside next weekend, according to Brokelyn. Markets in Fort Greene and Park Slope will be open on Saturday, April 5, while DUMBO's market is slated for Sunday the 6th. Yay, spring!
Smorgasburg is also returning to the East River State Park on that Saturday, but the Williamsburg flea won't be with it—they're moving to an unspecified location later this year, since residents weren't feeling the influx of new visitors.
· Brooklyn Flea to Be Basically Everywhere [Brokelyn]
· Sunday Park Lovers Win the War Against the Williamsburg Flea [Racked NY]
· Can the Brooklyn Flea Take Its Show on the Road? [Racked NY]
Brooklyn's population is up 3.5% over three years: Census
Brooklyn is the fastest-growing borough in the city and one of the fastest-growing counties in the state, according to numbers from the Census Bureau. The growth helped New York City surpass 8.4 million residents in 2013.
NEW YORK DAILY NEWS CITY HALL BUREAU CHIEF
Thursday, March 27, 2014, 10:52 PM
Holy hipster!
The Census Bureau on Thursday confirmed what riders of the F and L trains already know: Brooklyn is smokin' hot.
Its population surged nearly 1% last year and 3.5% over three years, making Kings County the fastest-growing borough in the city and one of the fastest-growing counties in the state.
The growth spurt helped the Big Apple become even bigger — surpassing 8.4 million residents in 2013 for the first time, an increase of 230,704, or 2.8%, over 2010.
When population records were set under Mayor Michael Bloomberg, he touted them as a validation of his policies.
Mayor de Blasio used the new record to rally support for one of his signature proposals.
"These population increases underscore the need to spur creation of housing for all New Yorkers," Planning Commission Chairman Carl Weisbrod said, noting de Blasio's call to build or renovate 200,000 affordable apartments by 2024.
Brooklyn's population grew by 87,400 over three years to 2,568,435. Queens (2.9% growth), Manhattan (2.5%), the Bronx (2.4%) and Staten Island (0.8%) also notched impressive gains.
Brooklyn, Queens and upstate Tompkins County each grew 0.9% in 2013. Rockland County was tops at 1%.
Read more: http://www.nydailynews.com/new-york/brooklyn/brooklyn-population-3-5-years-census-article-1.1737438